Spoleto Festival U.S. - Reviews


REVIEW: Bjornstad grows jazz
traditions

BY JACK MCCRAY
Special to the Post and Courier
Monday, May 30, 2011
Over the past three decades, a wide array of pianists have graced the stages of Spoleto Festival USA's jazz series. The list includes masters such as Cyrus Chestnut in 2008, Horace Silver in 1994, Dave Brubeck in 1983 and Mary Lou Williams in 1980.
In recent years, more unfamiliar names have appeared on the bill, signaling a shift toward the ever-expanding definitions of jazz. Like the old schoolmasters who have performed in Charleston in the spring, virtually all of the newbies have not disappointed audiences.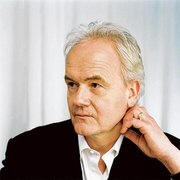 File
Ketil Bjornstand
Norwegian player Ketil Bjornstad kept that growing tradition intact Sunday as heperformed in fine fashion at the Cathedral Church of St. Luke & St Paul, a new addition this year to the list of SFUSA jazz venues. The beautifully designed sanctuary was nearly full, about 500 people. It was his United States debut.
Bjornstad, who has also written novels, essays and poetry, was extremely literate Sunday. The source of his art became obvious as he wended his way through a program of original songs informed by the European classics and American improvisation.
His execution was flawless. He created moods that were at once delightful and profound. There was hardly any swing element to his music. Nothing he played resembled the traditional American jazz body of work but it as full of improvisational ideas that were fully formed. The one-hour program had only four songs in which Bjornstad, 59, poured his heart and soul.
His music is introspective but it was proactive. The songs were more tone poems than they were like the typical American song form. You could even compare them to paintings, just as he did describing the origins of one of them.
Bjornstad's sound is very close to the one associated with the prestigious European label ECM, run by the legendary producer Manfred Eicher, known for his taste, risk-taking and high production standards. What he played Sunday could easily be compared to fellow pianists and label mates, Chick Corea and Keith Jarrett and saxophonist Charles Lloyd, all veterans of the festival's jazz series over the years.
You were left with the feeling that he has played these tunes many times, different each time and better each time. He's a consummate explorer well within the jazz tradition by bringing fresh treatments to classic structures.
Bjornstad performs again tonight at 5 p.m. and Monday night at 6 p.m. at the cathedral.
Copyright © 1995 - 2011 Evening Post Publishing Co.. font>